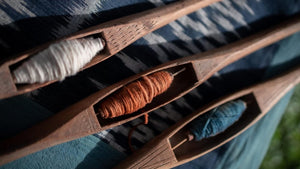 Our Natural Fibre Clothing
What Is Natural Fibre Clothing?
Natural fibre clothing is clothing that is made from fibres produced by plants or animals. Examples of natural fibres are
cotton
,
silk
, linen & wool. Synthetic fabrics, on the other hand, are produced by humans through a chemical synthesis known as polymerisation. In short, similar processes to that of plastic production. The majority of synthetic fabrics, i.e polyester, rayon, nylon etc., can be regarded as just that, plastic fabrics.
Why We Choose Natural Fibres
Natural fibres for clothing have obviously been around since humans first decided to cover up and it's why, even today, many of the fabric production processes used by our partner communities have not changed for millennia. Using natural fibres means we can support these traditional production methods that tend to be more sustainable, more eco-friendly and less energy intensive that synthetic methods. Although washing all clothes, including natural fibre clothing, leads to microfibres entering waterways and eventually to the ocean, scientists are becoming increasingly concerned by the number of long-lasting microplastics from synthetic fibres. A single machine wash of polyester clothing has been found to release up to half a million microplastic fibres.
Although natural fibres still produce microfibres when washed, they generally bio-degrade at much faster rates to most synthetic fibres and as they are natural, you would expect them to do less harm when released in to the environment. This does of course depend on what and if any chemicals have been added to the natural fibres in the production process. This is why at Rare & Fair we select natural dyes or eco-friendly dyes for our clothing ranges. As well as the social and environmental benefits, natural fibre clothing also comes with direct benefits to us, the wearer. Natural fibre clothing tends to be less toxic than synthetic fibres, especially if produced through traditional methods. This means it's kinder to both the wearer and the environment.
Our Natural Fibres
The natural fibres we select in our clothing are long-lasting and become softer and more settled in time, meaning beautiful timeless pieces that will keep their shape and, if cared for correctly, get better with age. Our current fibres are sustainable, natural cotton and sustainable silk from small-scale sericulture projects. Learn more by clicking the links above or shop the current designs below.
Natural cotton collection
Please note that purely for stability and design purposes, a small number of our natural fibre pieces use a synthetic fusible interfacing/interlining. We are slowly moving towards natural fibre options as the industry for these types of textiles evolves and becomes economically viable. We are not quite there yet, but it's getting closer! All of our yarns are lab tested before production takes place and you can be assured that the main body fabric of any item will always be 100% natural fibre. Please contact us directly if you have any questions regarding a particular design.