Machada Thai Silk - Traditional Silk Fabrics
The weaving centre became well known by representing Pak Thong Chai district in a provincial competition of handwoven silk products. Following their success, they expanded to the national and international markets.
In order to make traditional handwoven silk accessible to a bigger market while preserving the local wisdom and old weaving traditions, Machada weaving centre has partially incorporated some modern technologies and tools into the yarn preparation process in an attempt to speed up the traditional production methods. However, the main hand dying and hand weaving methods still play the major role in all fabric production.  
Machada Thai Silk offers a comprehensive range of handwoven silk textiles that come with high quality assurance, massive colour range and design variety, including Ikat, plain, pattern and printed silk. All available in both hand-reeled and machine made silk.  The raw materials used are all from traceable sources. Mainly certified silk threads from local producers.  
Machada Thai Silk is one among less than a 100 silk shops in Thailand that has been awarded a "Certified Thai Silk Shop" from The Queen Sirikit Department of Sericulture with The Royal Peacock Logo, guaranteeing clients high standards of silk fabric as well as the safety, health and the wellbeing of the artisans involved in its production. Currently, the weaving centre is in the process of applying for the certificate of  Geographical Indication (GI) for silk fabrics that represent local, cultural identity of Pak Thong Chai heritage.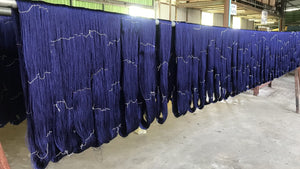 Traceable Sources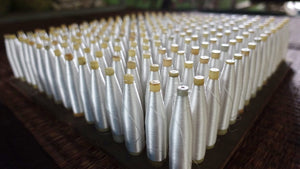 Quality Assurance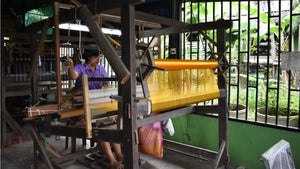 Handwoven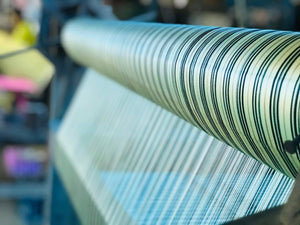 Certified Thai Silk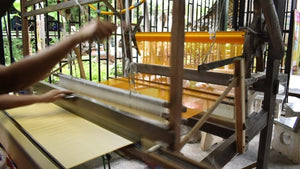 Local Wisdom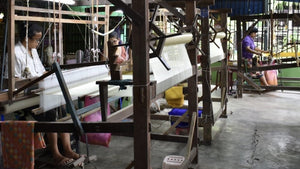 Ethically Made